She was bothered by Tahleen's comment about her automatically seeing the military aspect of the half hidden ship. As she couldn't really do something, she punched John for his "Toxic. That figures." comment instead.
Jacob is always right! Hee!
Though sometimes a bit too much into interpretation, IMHO.
I love the "is that my underwear?" scene from Rhapsody in Blue. She's so sleepy and disinterested and he's all "hey, you stole my shorts!"

"What does that say?"

"Calvin."

"Then they're not yours" and she snaps the waistband back into place.

ha!
You can't fault her logic.
I guess PK clothes are name tagged just like on Earth.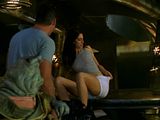 A.