Hello Woohoos!
Happy Martinmas day #5!!!
Manips? With pictures? I don't know... I thought about 100% drawed pictures
Hope it isn't against the rules
And tell me please one thing, are the photos from JM blog also copy righted- I mean can we post them here with notification that they belong to JM? Please, please tell me we can!!! I have found few interesting ones with Martin Woohood!!!
I remember Jumble posting Joe's photo with penguin umbrella so I guess...
*cap from "director series-lost city"
EDIT:
Here is me and Martin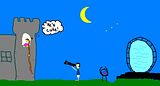 (click)