There is no way to make comments on all the posts! You are posting fiends.
First, CONGRATS to Lys, our new Royal Pharmacist and to Lida, returning to once again be our Royal Physician. What a pair you two should make.
Congrats to ForeverSg-1 and ChopinGal, for achieving new milestones in posting. Really great job on the plaque SamFan31, I love it. Also, are we going to vote for flags? Right now, I have to be truly unoriginal, and go with #5.
AND, the voting for the "special occasion cake" will close tomorrow evening. I'll post a pic of the cakes again, so any that missed them, due to the flurry of weeekend posts, will have a chance to vote.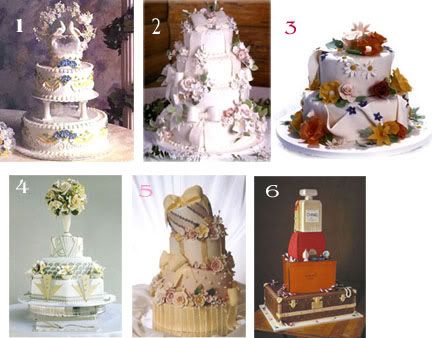 1. Traditional
2. Fantasy
3. Flowery
4. Art Deco
5. Unusual
6. Totally Whacked Out!
To date, we have 5 votes for Flowery (#3), 4 votes for Fantasy (#2), 2 votes for Totally Whacked Out (#6), and 2 votes for Unusual (#5). Please make your voice heard. Sam may be needing a cake soon (hope springs eternal).
As a quick note, sorry, but I haven't had my surgery yet. A complication forced my very cute doc to cancel the surgery and reschedule it for July 18th. At least it's AFTER the 15th!
I'll keep you posted, as once I go in hospital, I'll probably be unable to use my pc for awhile. Boo!
Unless I can goad someone into buying me the laptop I've been eyeing and hinting about, for the past 2 weeks. LOL We'll see. I hate to play the sympathy card, but I REALLY want that laptop. WAIT! I've got it! I'll just say that if I had a laptop, I could continue to post here and you all would help to speed my recovery...laughter IS the best medicine. Think Lida would write me a note????