Oh Yea Times
Brought to you from the RA's armchair
Contributions by ChopinGal
Edited by ChopinGal
Flowers In Your Window
It didn't take long for two of the veterans of the thread to act on an idea floated early last week in the kingdom to send our beloved Queen a welcome-back-to-work gift.
A basket of flowers and Belgium chocolates were delivered by midweek and we hoped that they brought some cheer to the return to work blues.
Well done Astro and ChopinGal - and everyone else who played a part
One Speed Sees Queen on the Silver Screen
At last the day came for 1speed4Sam's viewing of the very first StargateSG1 episode.
Once again the entertainment was preambled by the all important soften-him-up-but- not-too-much mountain bike ride in the wilds of the West Yorkshire moors.
The day was bright, sunny and clear, however a force ten gale hampered progress for the ride out and conveniently disappeared on the return leg. We were therefore late at the afternoon tea spot - at gone 5.30pm. A debate about who was going to get to shower first was settled when spirited hound inadvertently walked in front of 1s who was in full flow relief mode - The poor mutt couldn't quite understand why I wouldn't give him a pat until after his shower!!
So to Stargate - later than scheduled at 9.30pm - thus time only for COTG. 1speed was shown to the fully customised Stargate Viewing Settee-tm complete with the optional extra Grip-O-Matic restraints - designed and patented by the RA - I took up my observation post and the proceedings began.
I detected a certain excitement come to 1s's face as our Queen's name rolled by on the screen, and indeed eyes growing to the size of plates each time our Queen appeared on screen. 1s contained his obvious glee and didn't utter a single "Ain't AT hot!" comment - though this may have been due to the duct tape which was stuck firmly across his mouth.
It is left to 1s to sum up his thoughts on COTG - though I can divulge a viewing of The Enemy Within is firmly on the cards!
I believe we have him!!!!
Event Announcements
Art or Bust - the Chimera debate
The season 7 episode "Chimera" is the subject Inaugural Meeting of the Stargate Debating Society which will take place this coming Thursday at the Old Hag's Inn.
Leading the Heaven's Gate corner is Astrogeologist who is the proponent that Chimera provided the character of Samantha Carter a chance to show her previously unseen feminine, fun and flirty side and allow actress Amanda Tapping to broaden her Stargate performance repertoire.
Sizzling nicely in Hell's Fire is Coley who puts forward the proposal that Chimera was the start of a Sci Fi conspiracy to weaken and sex up the Samantha Carter character with a view to increasing viewing figures by gratuitous use of low cut apparel.
The society is committed to hosting orderly debates and thus all knives, P90's, zats and staff weapons must be left at the door. Strix will be on hand should anyone step out of line. In the hot seats Astro and Coley will be subjected to the use of the RA's patented grip-o-matic restraints.
Tickets are selling fast!!
Recording Session
In commemoration of the 40th anniversary of the "Sound of Music", Royal Accountant will be recording a new album, entitled "Climb Every Mountain". Unfortunately, Mother Superior and her singing nuns are unable to provide backup choir because of some legal dispute over copyright material which is keeping them busy. It seems there has been a flurry of jokes being distributed across the kingdom which the good sisters thought belonged to the convent library only. So, Royal Accountant may have to sing solo for the album
Book Corner
Here are the new books to hit the shelves this week
"
How to Curry Favour with your Favourite TV Star
" - by Astrogeologist and ChopinGal - a comprehensive guide to buttering up your fave TV personality includes a section on the most efficient way to send bouquets of flowers and chocolates - A must for everyone who is a fan of someone
"
How to Cope with Fans
" - By The Queen" An autobiographical piece on how to cope with the kindness of strangers and the more zealous of fans. Includes a section on coping with unexpected gifts such as bouquets of flowers and chocolates from fans far away. It also contains a practical guide on interacting with fans at conventions when you know only too well by viewing the SAGCT and the Oh Yea Times that a small but unknown proportion of those people you are talking to have quite frankly lost their marbles!
"
The Long and Whining Road
" - By 1speed4Sam - a guide to mountain biking the 1speed way. Includes a chapter on coping with MTB buddies whining about the amount of time they spend waiting for the 1speed rider to catch up!
"
Spelunking for Fun and Profit
" by Strix Varia (Warrior Princess), Personal Guard to the Queen ... how to turn your disasters into something completely different. Combine the excitement of the unknown with your knowledge of first-aid!
"
The Art of Impersonation
" - by Coley - This is a comprehensive guide which documents the many techniques available to enable you to impersonate the most improbable individuals. Coley surprises us all with her ability to seemingly look like our glorious Queen - read how she managed to look like the most beautiful woman on earth with only just-average looks, smoke and mirrors, fortunate lighting and a kind camera angle. The book also deals with the legal issues surrounding this particular pastime.
Stop Press!
1speed's Knobblies Knobbled!
For all readers waiting with baited breath to see just what all the fuss is about, the Oh Yea Times press photographer - Forever SG1 was lurking in the bushes on Saturday waiting to shoot the scoop! Here's what she managed. Please all those with a delicate disposition look away now!!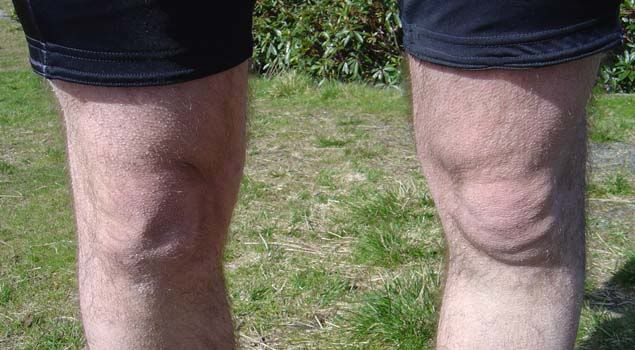 Jester's Joke of the Week
3 nuns get killed in a car crash and they get up to Heaven and Peter is at the gate and he says, "I'm afraid you're going to have to answer a question each before you can come in.
So he says to the first nun - don't worry the questions are very easy. "What was the name of the first woman?" the nun replies "Eve" and Peter says, "You're in!"
So he says to the next nun "Where did Eve live?" and the nun replies "The Garden of Eden!" and Peter says - "Yup, you're in too!"
The he says to the third one who is a Mother Superior "I'm afraid the question is going to have to be a little more tricky for you!" So he asks "What did Eve say when she first saw Adam?". The Mother Superior thinks and says "Oh that's a hard one!" - Peter says, "Yeh - you're in!"
Oh Yea Oh Yea - Positions Vacant
Wanted:
Backup singers and musicians for commemorative album. Must have a tolerance for lead singer singing off-key and ability to sing and play loudly.
Wanted
: Vicar. Must have the proper theological credentials and an ability to deliver a rowsing sermon. The good citizens of Samanda are often sleepy on Sunday mornings and need to be lifted to greater heights by bells and whistles if necessary; if that fails, Grip-O-Matic restraints can be purchased through RA.
Any citizen who wishes to apply for additional positions, please send resume to the Court Jester via SaGCT. Jester is in charge of nominations to the Court and one second from an existing Court memeber is required to make the appointment official.
Quotes of the Week
"One can never consent to creep when one feels the need to soar" - Helen Keller
"There is no revenge so complete as forgiveness" - Josh Billings
"The most potent muse of all is our own inner child" - Stephen Nadimanovitch
"A crushed jam tart or cream trifle is never very appetizing when it has to be sucked off a dirty sock" - Colin Kirkus - Let's Go Climbing!