Originally posted by ForeverSg1
Ok so I was talking to Uber tonight on MSN and I reminded myself of two things that happened at the con that I forgot to mention earlier.
Over the weekend, one of the men attending the con was reenlisting in the service. I believe it was the navy, but I'm not 100% positive. Anyway, I believe a high ranking officer came down to oversee the ceremony, but Amanda was given the honorary title of Lt. Colonel( again my memory is really bad so I may be wrong about the title so feel free to correct me ) and was to asked to be a part of the ceremony. Later that day during the Q&A, he thanked Amanda for being a part of the ceremony. It was actually quite touching.
Then later in the Q&A someone asked Amanda why Joe and Ben had both been asked to fly with the Thunderbirds, but she hadn't been to which she got this shocked look upon her face and said 'I know! What's up with that?? Then jokingly said that she couldn't have been any worse than Joe seeing as he had thrown up. She said that she had actually asked why she had never been invited to fly with the Thunderbirds and was told that they didn't think that she would be interested. She went on to say that she may be given her chance soon and she was really looking forward to it.


So there ya go. Our Amanda may soon be flying with the Thunderbirds.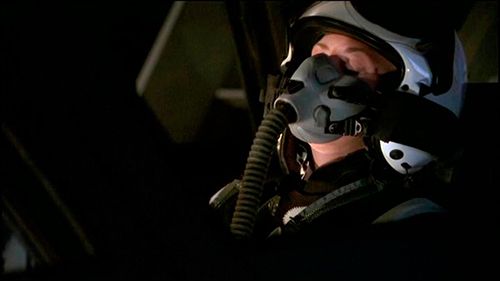 Ahhh, the Thunderbirds... finally...