And... here is the Season 6 summary collection of SaGC episode comments:
(and Coley, I did not forget you - will add yours in when you post on Sunday
)
REDEMPTION
skydiver I love sam and jonas moments. And the sam/mckay bits. especially the infirmary bits. this was a great team episode in the fact that they all worked together.
NearlyCircular Sam whumping, a fun scene with Sam and Rodney in the infirmary- "I always wanted to be a pianist," the kiss on the cheek at the end, and the line, "I was more attracted to you when I did. (hate you)"
More Redemption Screen Caps
Screenshot with some dialogue
DESCENT
skydiver i just love thisone over all. the sam/jack drowning bits, sam trying to open the door. again, another good team episode
majorsal the scenes where Sam and Jack are drowning. And then her trying to jury-rig the doors to open so they could get the heck out of dodge. I really liked that part, because it was one of the first times we saw Sam struggle under the weight of pressure. Not a lot, but I enjoyed seeing it.
NearlyCircularThe near drowning scene where Amanda kept forgetting to tilt her head back and would choke when the water got in her nose, then looking like a drowned rat for the rest of the episode.
astrogeologistOne of my favorite 'Sam Lines' was in the Season 6 episode 'Descent'
when he tells her to be careful
and she replies with perfectly pitched sufferance and humor 'Ye-es, Da-a-ad'
... just like any kid would answer their parent after hearing that said for what seems 1000 million times over their lifetime! Would love to get those two lines on an audio clip!
AT talks about the 'almost drowning scene'
FROZEN
skydiver oh the angst. and how sam, even when she knew she was feeling sick, didn't say anything
NIGHTWALKERS
skydiver what is NOT to like about this one? Sam in charge, chaperoning the two aliens. her in full command of the mission. her gutsy moves at the end, injecting herself with that stuff. my only quibble, they just brushed off her second goauld possession...much li ke they did her near demise in Meta
chopingal as Sky already said, what's not to like? Sam Carter going undercover with her team - Sam in charge - Sam getting goa'ulded again - Sam fooling the bad guys by injecting herself with the antibody - Sam getting to slap Jonas around - and, most importantly - Sam looking hot in black leather!
majorsal Cool Sam! episode! Meaning, Sam was cool in it. She was in charge, she got to be funny, and she got snacked again!
NearlyCircularSam in charge for the entire episode!!! That long coat looked fantastic. I liked the interactions with both Jonas and Teal'c, and she got some really good lines - "We have another tradition…it's called hardened arteries" - "You guys aren't nearly as smart as you think you are."
AgentDarkSam was in command basically, always great to see. Plus she seems to have a natural investagtive instinct - might be a bit of Scientist!Sam showing Some great lines in this episode and the Sam/Jonas banter was refreshing
astrogeologist this was a Sam episode. I loved 'Sam in charge'... loved her reading Goa'uld on the laptop... lockpicking... that she figured out what the stuff in the syringes was for... and that she basically kicked-butt in the end! And... can't forget the *really cool* sunglasses! MIB!
]
NC's creen caps and Sam quotes from Nightwalkers
Sam to Jonas: "I'm going to go talk to the Sheriff. Keep an eye on Teal'c."
Jonas: "Sure."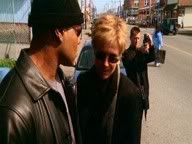 Sam to Teal'c: "Keep an eye on Jonas."
(Now,
that's
leadership!
)
Jonas: "You have got to teach me how to do that."
Sam: "Wormhole theory, motorcycle riding and lock-picking."
Jonas: "Not necessarily in that order."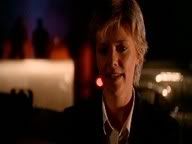 Singer: "The humans have no idea what's going on here."
Sam: "Oooh, I wouldn't exactly say that. You guys aren't nearly as smart as you think you are."
ABYSS
skydiver this is one of the first times that we see a unique characteristic of sam's...her willingness to accept 'odd bedfellows' to get the job done. thinking outside the box and teh ability to think up new allies when needed.
SHADOW PLAY
skydiver umm, well this was mostly a jonas episode so i don't remmber much sam
THE OTHER GUYS
skydiver when jack was getting cattle prodded, how sam yelled out 'he doesn't know anything', trying to protect her friend.
.