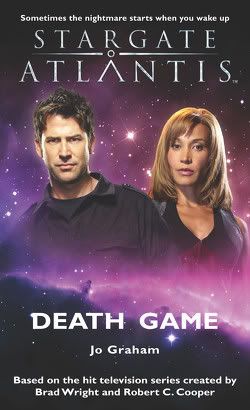 Fresh off the press!!!!
Ok! Death Game is out! Fandemonium is shipping to the people who preordered directly from their website, and new orders can be placed here! So some of you should see books soon!

Other bookstores, whether online or actual shops, will have it available as soon as they receive it and get it sorted and up for sale. Amazon US is still showing that they don't have it in stock -- presumably it's somewhere in their incoming freight!

Can you guys give a yell when you get it?

Also the Fandemonium website has a nice interview with me in the authors section -- check out my laptop here!
~ Jo Graham
For the links above go to her LJ.
http://jo-graham.livejournal.com/864...941538#t941538
Also, once you have your book, let me know, and join Beya. We will be hosting book clubs for all SGA novels by Jo Graham. And take a peek in her cover, my name should be either in this one and/or the Legacy series. I'm freaking FAMOUS!!! It will be my other alias name, though.